Certainteed Shingle Class Action
Recently, we've come across a handful of homes with prematurely failing asphalt shingles. It's nothing new, but most of the time the homeowners, real estate agents and potential buyers alike are shocked to learn about it. "The shingles look fine from the ground!" Yep. Good from far, far from good.
More often than not, the failing shingle is from a product line produced by Certainteed between 1987 and 2005 and marketed under the brand names Hallmark Shangle, Independence Shangle, Horizon Shangle, Custom Sealdon, Hearthstad, Solid Slab, Master Slab, Saf-T-Lok, and Custom Lok. Over 94% of these products were sold in Midwestern states including North Dakota and Minnesota.
Many customers began to take note of their roofs failing well before the reaching the end of the warranty period, and what began as several independent lawsuits became a class action in 2009. In 2010, Certainteed and the plaintiffs reached a settlement which entitled affected homeowners to compensation for the defective product.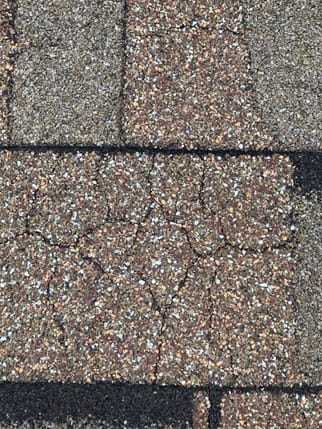 The problem? Often times, homeowners have no idea what product is on their roof and, often, leaks do not develop immediately when a defective shingle is just beginning to fail. Therefore, many homeowners are unaware of a developing problem on their roof and the compensation for which they are eligible. This is especially inconvenient when the home has been listed for sale and a purchase agreement is in place. The home inspection reveals an expensive problem that nobody knew about, yet could have been addressed at a reduced cost to the homeowner with a little prior knowledge.
If you are in the process of closing a real estate transaction and have just learned that this product is present, your first question is most likely "will the eligibility transfer?" And the answer is…it depends. You can find a lot of great information at the class action website, certainteedshinglesettlement.com which is a great resource. But obtaining the answer generally comes down to answering two other questions: Did the homeowner close on the property on or before December 15, 2009 and does the original warranty cover future owners? If the answer is yes to both questions, eligibility will transfer. If not, you most likely need to start budgeting for a new roof. If the homeowner did close during the eligibility period but the warranty does not transfer, they may be able to file a claim prior to the closing date. Unfortunately time is of the essence during the contingency period, but with thousands of dollars on the table it is probably worth looking into.
So what can be done to avoid falling victim to this unfortunate situation? If you're a homeowner and believe your shingles were installed prior to 2005, it's worth doing some research to determine what product was used. Are there purchase records or warranty documents available? Did the roofer leave any spare product behind in the basement or garage? If not, a knowledgeable roofer can most likely tell from a visual inspection, or a sample of the material can be sent to Certainteed for identification. If you are a real estate professional who will be representing a seller, this is a question worth answering during the consultation and prior to listing the home for sale. Doing so can help avoid complications down the road when working to remove the home inspection contingency.