Some Basics About Radon and Radon Testing:
NO SCENT OR TASTE
A cancer-inducing, radioactive gas, radon can't be seen and has no scent or taste. It may be a potential health risk in your home, commercial building or job site. The U.S. Surgeon General cautions that radon is among the leading causes of lung cancer in the country today. If you are a smoker and your home or workplace is a location that contains high radon levels, you're possibly at heightened risk of developing the serious –and often deadly – disease. Because they tend to have a higher respiration rate, younger people may be more susceptible to health problems stemming from radon.
COLORLESS
Discovered by physicists in 1900, Radon is a colorless, inert gas that can easily penetrate common materials from paper, leather and plastic bags to most paints and building materials. It's a natural radioactive gas and originates from the natural degradation of uranium. Typically discovered in rock and soil, radon can sometimes be naturally occurring in well water too.
HEALTH ISSUE
Radon is a nationwide environmental health issue, with elevated radon levels identified in all states. According to the Environmental Protection Agency, up to eight million homes throughout the country have increased levels of radon. When it comes to commercial locations and the workplace, people in confined air spaces are generally in contact with elevated levels of radon. Other areas where significant radon concentration can occur are spas, tunnels, utility power stations, and caves.
The Importance of Radon Testing
Radon Testing is the only reliable way to know radon levels in your home or commercial building. There aren't any sudden, obvious symptoms that may warn you of the presence of radon, and it may require years of exposure before any complications surface.
Still, the Surgeon General, American Lung Association and American Medical Association advise Radon Testing because it's the best and only method for accurate detection.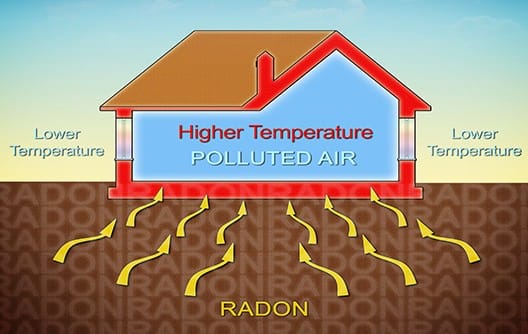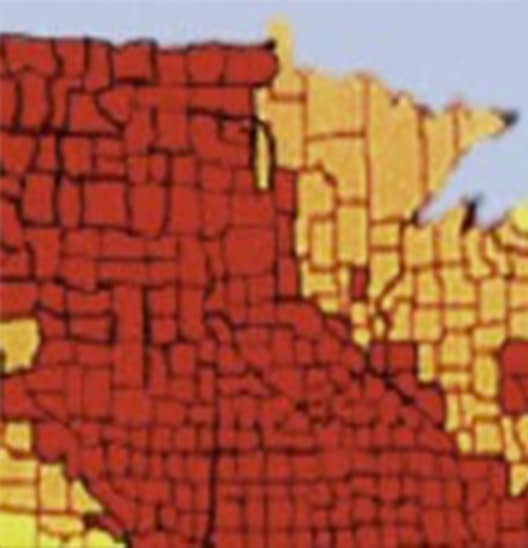 Radon in the Midwest
Radon levels within our geographical service area can be classified as above average compared to the rest of the US. The illustration shows our service area, shaded by the 3 zones.
Zone 1 (Red)- Counties predicted with potential elevated indoor radon levels above 4.0 pCi/L
Zone 2 (Orange)- Counties predicted with potential indoor radon levels between 2 pCi/L to 4 pCi/L
Zone 3 (Yellow)- Counties predicted with potential indoor radon levels below 2.0 pCi/L (No Zone 3 counties noted within our region)
Assuming that these guidelines would suffice to determine actual radon levels within each individual home is incorrect and an actual radon test in the home should be conducted to determine levels. However, we can conclude that our service region is generally an elevated potential area where testing is recommended.
EPA's Home Buyer's/Seller's Guide to Radon
The Environmental Protection Agency (EPA) has published multiple guides to cover all aspects of Radon. We encourage each homeowner or home buyer to view these publications to fully understand the concerns and risks of radon exposure.
Click here to view the most general guide provided by the EPA for Home Seller's/Buyer's.